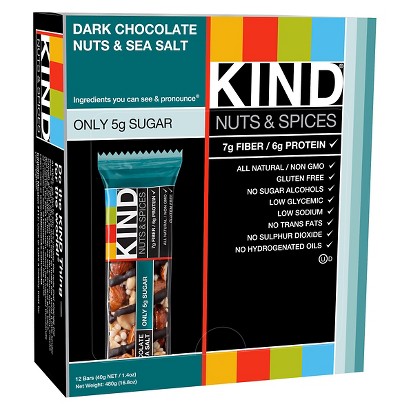 My husband is a big fan of the Kind Fruit & Nut bars. Unfortunately even though these are super healthy, they are usually on the expensive side because of the quality ingredients. Well right now they are a great value and a wonderful option for a healthy snack or those who are looking to go gluten free. Better pricing than Amazon or Walmart, Target has the best deal by far!
Here is how you get the best price:
Order two 12 packs of the Kind Fruit & Nut Bars
Kind Dark Chocolate Nuts and Sea Salt
Kind Plus Pomegranate Blueberry Pistachip
Kind Peanut Butter and Dark Chocolate
Use coupon code HEALTH5 to save $10 off a $30 purchase
If you have a Target redcard, use that to save an extra 5% off and get free shipping on your online order!
The awesome thing about the redcard is that it can be a debit or a credit card and it still works.
Hurry and grab a deal on these before the good ones sell out! I just paid less than $24 for 24 bars!!! Woohoo!
Kind Plus Pomegranate Blueberry Pistachip ...
Find snack and nutrition bars at Target.com! Ingredients you can see & pronounce. Glute...
[More]
Price: 16.79
Tweet